Your Healthcare Connection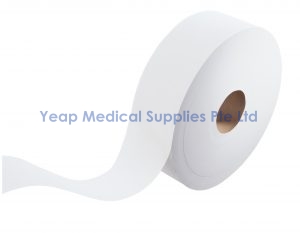 Did you know most cleaners spend more time on non-cleaning activities and not enough time on cleaning to a standard?* Did you know "Empty Tissue Dispensers" is among the top 3 issues that impact user perceptions on establishments? *based on a Kimberly-Clark Professional survey conducted on employees of a large office building site in Asia.
80% more than the standard 200m JRTs, more tissue in the same space.
Less storage & delivery, save up to 20% in logistics cost by switching to higher capacity formats, longer length tissues = lesser storage/delivery space and cost. **based on a Kimberly-Clark Professional internal estimates
Less frequent servicing, lesser tissue run-outs = more satisfied users.

Available in:
KC-06511 – KC SCOTT JRT Jumbo Roll Tissue, Plain, 2-Ply, 9cm X 22.5cm, 1333's/roll, 300m/roll, 12roll/ctn [IND], ctn (Dispenser: KC-70260 or KC-70270)

Discontinued

KC-06514 – KC SCOTT JRT Jumbo Roll Tissue, Plain, 2-Ply, 9cm X 22.5cm, 1600's/roll, 360m/roll, 12roll/ctn [IND], ctn (Dispenser: KC-70260 or KC-70270)
KC-70260 – KC AQUARIUS Jumbo Roll Tissue Dispenser, 28.5cm(H) X 27.8cm(W) X 14.4cm(D) [IND], each
KC-70270 – KC AQUARIUS Jumbo Roll Tissue Dispenser, Smoke, 28.5cm(H) X 27.8cm(W) X 14.4cm(D) [IND], each