Your Healthcare Connection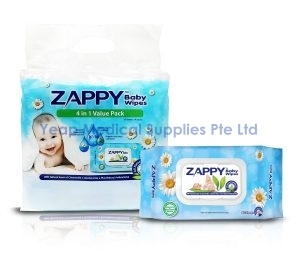 Zappy Baby Body Wipes are specially formulated with 100% NATURAL INGREDIENTS infused with plant botanicals and natural moisturizers to provide the gentlest care possible for baby's delicate skin.
Zappy Baby Body Wipes are extra thick and soft that are gentle and safe for baby's delicate skin. Specially formulated with 100% ALL NATURAL ingredients and does not contain FRAGRANCE, ALCOHOL, SYNTHETIC PRESERVATIVES or any HARSH CHEMICALS. Added with Organic Chamomile Flower Extract and Aloe vera Leaf Juice that soothe and moisturize baby's delicate skin. Compactly package with a resealable sticker or pop-up sticker dispenser for convenience of use at home or while travelling.
For daily cleansing of baby from head to toe, ideal for the whole family for instant cleaning and freshening up and suitable for all skin types especially for sensitive skin.
Ingredients : Purified Water, Glycerin, Sodium Lactate, Propylene Glycol, Aloe barbadensis Leaf Juice, Propanediol, Organic Chamomilla recutita (Matricaria) Flower Extract, Salix alba (Willow) Bark  Extract, Sodium Gluconate, Sodium Citrate, Sorbic Acid, Sodium Levulinate, Sodium Anisate, Sodium Cocopolyglucose tartrate, Anthemis nobilis essential oil
Precaution : This is for external use. Avoid contact with eyes. If solution comes in contact with the eyes, wash out promptly and thoroughly with water. Skin irritation is uncommon but should a reaction occur discontinue use immediately.
Available in :
WT-RESEAL-0007 – Zappy Baby Wipes, 20cm x 15cm, 30's/pkt, 48 pkts/ctn [IND], ctn
WT-RESEAL-0008 – Zappy Baby Wipes, 20cm x 18cm, 80's/pkt, 24 pkts/ctn [IND], ctn
WTF-SS2223-0005 – Zappy Baby Wipes (Value), 20cm x 18cm, 80's/pkt, 4 pkts/pack, 6 packs/ctn, ctn
WT-RESEAL-0010 – Zappy Baby Wipes, 20cm x 15cm, 30's/pkt, 3 pkts/pack, 16 packs/ctn [IND], ctn