Your Healthcare Connection
< Back
Butterfly Needle – Venofix® A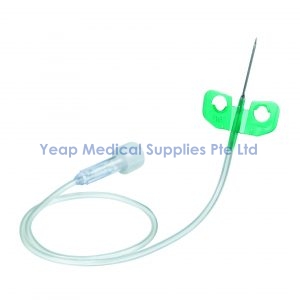 The Venofix® A product range is comprising gauge sizes from 27G to 19G to be suitable for a wide field of indications –  short-term infusion, injection, transfusion and blood sampling. The flexible interlocking wings and the micro siliconized precision bevel allow an appropriate puncture angle for various venous conditions. Soft wings facilitate a safe fixation on the patient's skin.
Enhanced short-term infusion therapy The DEHP-free tubing prevents from kinking to avoid an interruption of infusion therapy.
Venofix® A is appropriate for modern infusion therapy in connection with pressure infusion equipment, as it meets the requirements of ISO 8536-9.
Available in :
4056310 G19 – 1.10mm x 20mm needle, Beige [IND], box
4056337 G21 – 0.80mm x 20mm needle, Green [IND], box
4056353 G23 – 0.65mm x 20mm needle, Blue, box
4056370 G25 – 0.50mm x 15mm needle, Orange, box
4056388 G27 – 0.40mm x 10mm needle, Grey [IND], box