Your Healthcare Connection
< Back
Disposable Liner System for all VacuAide models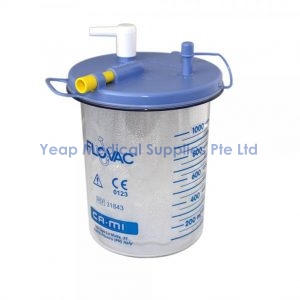 The disposable Liner System from Flovac is a hermetically sealed container system that can be used with all VacuAide devices. The liner system consists of a reusable container and a liner insert designed for single-patient use.
Managing infection control and reducing contamination risks are of upmost importance, the liner system provides the solution. Together with the VacuAide, it enables safe suction therapy in a clinical or homecare environment.
The hydrophobic bacteria filter prevents overflow, by stopping suction when wetted by the fluid reaching the maximum level of container filling. The Liner System is available as standard or with a gelling kit, which uses an absorbing powder that transforms liquids into a semi-solid mass, allowing easier handling, transportation and disposal. An aromatic additive adds a more pleasant odour during the collection procedure.
Specifications :
1L Container:
Economical – the container is reusable and can be autoclaved for multi-patient use
Made to measure – specifically designed for 1L liner inserts
Efficient – the container is easy to use and clean
1L Liner Insert:
User-friendly – colour-coded connectors and clearly marked labels eliminate the risk of incorrect set-up
Hygiene is paramount – integrated hydrophobic bacteria filter protects against overflow. Stops bacteria and virus-related germs.
Reliable – hermetically sealed
Time-saving – the liner insert is single patient use so no cleaning required.
2 options available – standard/ gel liner system
Available in:
Flovac Disposable Liner System