Your Healthcare Connection
< Back
Hygienic Bathroom Tissue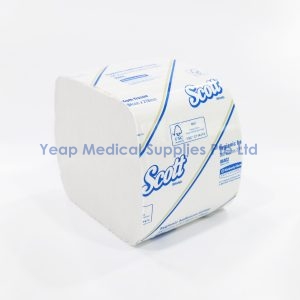 A hygiene solution for your common washroom problems, SCOTT Hygienic Bathroom Tissue system delivers tissue in an interleaved cut sheet format.
The individual sheet dispensing controls usage and eliminates cross-contamination problems as the users only need to touch the paper they use. There is also no stub roll waste associated with this intelligent system.
Dispenser can hold up to 1,100 sheets at one time and is easy to load and top-up.
Available in:
KC-06402 – KC SCOTT HBT Hygienic Bathroom Tissue Plain 2-Ply, 10.5cm X 20.5cm, 300's/pkt,75pkt/ctn [IND], ctn (Dispenser: KC-69460)
KC-69460 – KC AQUARIUS Hygienic Bath Tissue Dispenser, 33.8cm(H) X 16.9cm(W) X 12.3cm(D) [IND], each