Your Healthcare Connection
< Back
Manual Resuscitator for Adults (Air Viva)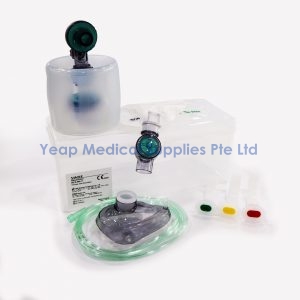 Manual resuscitation is a form of artificial respiration that uses a breathing bag (manual resuscitator) to assist patients with breathing. It is usually used when the lungs are not functioning properly.
The breathing bag is filled with oxygen and is squeezed by hand by the doctor, nurse or respiratory therapist. You may also hear the members of the ICU staff refer to the breathing bag as an Ambu bag.
Once squeezed, the bag self-inflates. One end of the bag is attached to an oxygen source and the other end to a facemask or breathing tube.
Manual resuscitator adult (aka air viva) set contains :
1 X oxygen reservoir bag
1 X reusable face mask no. 5
1 X oxygen tube 2.1m
1 X guedal code airway 80mm
1 X guedal code airway 90mm
1 X guedal code airway 100mm
1 X hand carrying case
Available in:
SR-001-B1 – Manual Resuscitator for Adults (Air Viva)