Your Healthcare Connection
< Back
NAGATA Automatical Physician Scale with Ultrasonic Measuring Device
NGT-BW-2981V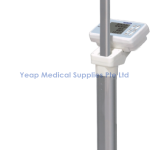 NAGATA Automatical Physician Scale with Ultrasonic Measuring Device
Elevate your healthcare facility's measurement precision with our Ultrasonic Height Measuring Scale. This cutting-edge device employs non-contact, ultrasonic induction technology, ensuring a touchless and accurate height assessment. Its comprehensive functionality allows simultaneous measurement of height, weight, and BMI, securing the weight value post-measurement for added convenience. Suitable for hospitals, clinics, schools, and fitness centers, this multifaceted scale streamlines healthcare processes effortlessly.
Features
Non-Mechanical Touch & Voice Guidance: Embrace precise measurements with non-contact technology and voice-guided functions.
Clothes Weight Deduction: Accurately calculate actual weight by deducting the weight of clothing.
Stable Armrest & Height Calibration: Equipped with a stable armrest for patient comfort and a height calibration board for accuracy verification.
Safety & Durability: Large aluminum alloy pipe columns and a high-strength platform ensure safety and accuracy.
Medical Efficiency: Effortlessly record weight with the exhale last weight feature, aiding medical staff in obtaining accurate measurements.
Connectivity: Standard RS232 computer connectivity for streamlined data transfer and analysis.
Specification
| | |
| --- | --- |
| Weight capacity | 250kg |
| Graduation | 100g |
| Platform size | 320 x 370 x 90mm |
| Dimension | 320(L) x 620(W) x 2340mm(H) (±5%) |
| Functions | START / MODE / ZERO / +J / LAST DATA / HOLD / TARE / PRE-TARE |
| Measuring range | 50 ~ 205cm/ ±0.5cm |