Your Healthcare Connection
< Back
NAGATA Physician Scales
NGT-BW-1322H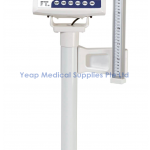 The NAGATA Physician Scale NGT-BW-1322H is an advanced medical weighing device designed for precision, accuracy, and ease of use in healthcare settings. Featuring a clear and easy-to-read 1″ high LCD display, this scale ensures effortless readability for healthcare professionals.
Features:
Clear LCD Display: Equipped with a 1″ high LCD display for clear and easy reading of weight measurements.
Adjustable Angle Indicator: Offers an adjustable angle indicator for enhanced user convenience.
Sturdy and Safe Platform: Constructed with a compact ABS platform and a non-skid footprint for stability during weighing.
Tare Function: Allows subtraction of additional weights such as wheelchairs or client's belongings for accurate measurements.
HOLD Key: Improves accuracy by stabilizing measurements for unsteady or shaking clients.
Recall Key: Conveniently displays client data after they step off the weighing platform, aiding in record-keeping.
BMI Function: Features a Body Mass Index function for quick and essential health assessment.
Auto Shut-off and Low Battery Warning: Equipped with an auto shut-off power-saving function and a low battery warning indicator for uninterrupted performance.
| | |
| --- | --- |
| Weight Capacity | 250kg |
| Graduation | 100g |
| Platform size | 320(W) x 375(D) x 95(H) mm |
| Net Weight | 13.3kg |
| Power | AC adaptor |
| Display | 25mm LCD |
| Functions |  ON/OFF/ RECALL/ ZERO/ BMI /HOLD/ TARE |